Top Self Portrait Boudoir Photography Tips
Boudoir photography does not always mean photographing your clients. It is also possible to shoot yourself in the boudoir. This can help you maintain your sharpness, and what better way to provide you with a boost in confidence.
Here's how you can take the perfect boudoir self-portraits using some simple-to-follow tips.
What Are Boudoir Self Portraits
Due to the difficulty of self-portraits for photographers, many are reluctant to try them. This kind of photography could be extremely advantageous to you and your business.
Self-portraits aren't about self-promotion or seeking attention. They're a chance to imagine yourself in the shoes of your customers. They also provide you with the opportunity to test innovative ideas.
It can be beneficial to take photos of yourself to understand various lighting and poses without paying for models. It is also an exercise for creative thinking.
I reached out to Beth Claire of Lost Highway Imaging, one of the top self-portrait photographers working today, for her top tips.
How to Overcome Common Boudoir Self-Portrait Challenges
When you first attempt self-portraits, whether boudoir or not, it's essential to take your time clearing your mind. It takes more time than you would think, and you must have the ability to allow yourself enough time so that you don't be overwhelmed.
The constant checking of the clock only adds to stress. If you're not comfortable dealing with your hair and makeup, you may wish to work with an artist. This will allow you to enjoy the full look that your Boudoir guests will experience. So why not treat yourself for the rest of the day!
It is crucial to run the dry run without a stylist to ensure no pressure on you when the time comes for your shoot.
Changing up posing will give you the options to show movement and fluidity in your posts.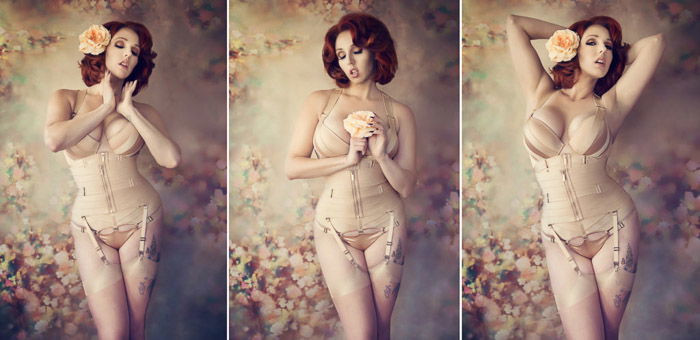 Equipment for Self Portrait Boudoir Photography
Before starting, you'll have to determine which equipment you will need to use for shooting. I've tried using the timer built into my camera. But I suggest an alternative like a remote.
The back and back and forth can cause an aerobic workout. The exhaustion will show up in your photos.
Claire utilizes a CamRanger device. She has also used a remote and intervalometer in the past. Be aware that if you are using an electronic remote, you'll need to conceal it from your hands.
Some cameras do have built-in intervalometers. Before you begin, you should go through the manual.
If you're setting up photos on location, such as on the beach, make sure you have someone. In the above image, Claire creates her silicone Mermaid tail.
Silicone tails can be difficult to access. A fall off the rock to adjust if your tripod falls is not easy. The presence of an assistant alongside your camera, while you're in a themed setup can help.
Utilize props like mirrors and clothing textured like this one to help create a portrait with an edge. In this picture, Claire can add drama without revealing the remote and trigger from her photo.
Setting up does not need to be time-consuming or difficult. A robe, mirror, and a strobe gave Claire everything she needed to take this striking photograph.
gave Claire all she needed to capture this dramatic portrait.
Concentrating may be the most difficult element of self-portraits. If you're trying to look for the precise depth of field, it's helpful to place an object or a dummy to the subject. This will give you something to observe before getting into the frame.
She suggests using toys for children for model models that you can serve as models for.
If you're photographing on beds, it is possible to use bright tape with the shape as an X for the perfect focal point. If you can't use a stand-in alternative, you'll need to let yourself go a bit deeper than the normal photograph.
As Claire began to get experience with self-portraits, she switched to f/5.6. Claire is now shooting at f/1.8 without any issues.
It was initially helpful to be able to use this additional space to make sure that the main focus was not initially on the page.
Choosing Your Self Portrait Wardrobe
It is crucial to pick an outfit that helps the story come to life. It also feels good. Most likely, you'll be on your own during your self-portraits, so choose pieces that you won't need help with.
If you do not have a person close by, lacing the corset could be difficult and end up being a nightmare for your first attempt. Select items that make sense to you, not what you believe is more appropriate.
If you're more into Calvin Klein underwear, use this. Do not struggle with underwear that feels uncomfortable and uncomfortable.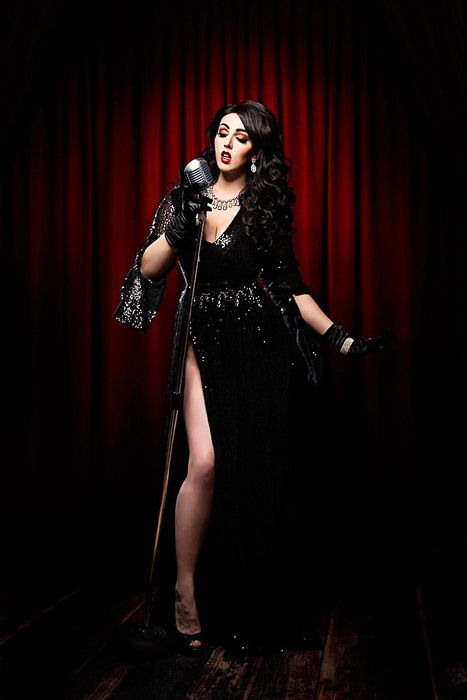 Image Selection for Self Portraits
In contrast to a client-based session, self-portraits aren't likely to provide as many good photos. You should expect to take between twenty and thirty photos for each one that can work. This is especially true at the beginning of your self-portrait journey.
Make sure you leave with just one or two outstanding photos the first time instead of filling up an album. This goal is to learn until you have comfortable with your style and look in this new style.
If you're worried about lighting or poses, it could help pose the same way you would pose with your clients. Develop your poses and lighting routine exactly like you would with any of the clients you work with within a normal rotation.
This takes the guesswork out of lighting and poses. It also creates blog posts for your client base. It's a great method to blog and connect in your exclusive groups. Tell them that you've can put yourself in there in their shoes.
The clients you work with will notice knowing that you know how stressful an appointment can be. You will also be able to relate.
Get Creative with Self Portraits
The best thing about self-portraits is the possibility of creative thinking. There is no need to adhere to a particular style, and this is the best time to incorporate all of your ideas onto your camera.
If you are working with clients, you might be hesitant to try a new style and spend your client's time. Employing models is a good method. However, the process also requires some money for your time.
Self-portraits allow you to create a dramatic style, experiment with new postures, or try a completely new look.
Once you've got your focus down, you can play with different options, such as themed designs. Claire makes a photoshoot with themes of the holidays for the VIP group she has created.
Clients get an idea of what the setup will look like for the Halloween party, for instance. The addition of lighting with strobes will create the appearance of a spectacular session too.
It's best to wait on artificial lighting until you have had some attempts. So you're not doing it the first time.
Avoiding Mistakes During Self Portraits
One common error made by first-timers is that they stick on the same pose and angles for the shooting duration. Make a change in every shoot to see which one you like best.
You wouldn't shoot 30 images from your customers in the same position. Why would you do this for yourself?
When you feel it's not going in as you planned, becoming frustrated during the shoot is a common error. Relax for a moment and take a break for an instant.
This isn't a commercial shoot where money is at stake. The shoot can be used for your creativity. If you're not creating the calendar, you'll be able to finish it done.
Another mistake is being critical of yourself. Self-portraits are a process that takes time and perseverance to master. The first time you attempt, it could appear to be a failure, but in reality, it's just an opportunity to learn for the next step.
It is essential to show respect to yourself when you are taking a self-portrait session. This kind of kindness applies to each step, from dressing to looking at the photo's back.
During the session, step back and examine yourself in the same way you would treat your clients. Why would you judge yourself if you wouldn't evaluate them for cellulite, stretch marks, or weight?
Whatever time you begin or how many pictures you can capture from your first photoshoot, You will earn a new appreciation for the art of photography and your customers.
It can open your eyes to your shooting location and lighting options, posing, and other things. Self-portrait boudoir photography could lead you to a different world of possibilities for you and your company.